Four different countries are currently on the brink of famine, and although donors are displaying increasing generosity, humanitarian aid organisations are stretched more thinly than ever. In Yemen, Somalia, South Sudan and Nigeria, conflict situations are causing serious food insecurity among some of the world's most vulnerable people.
Millions of people are experiencing devastating levels of hunger and this global crisis has far outstripped the financial support available. According to the UN's humanitarian chief Stephen O'Brien, in 2016 donor funding reached record levels, but only half of the year's requirements were fulfilled.
Speaking to the Guardian, Gareth Owen, Humanitarian Director of one of the UK's largest children's charities, said: 'The potential this year is we may have four famines looming, which is a truly scary thought and will stretch our resources. We are at a critical moment." Owen compared the current situation with the state of Somalia before the 2010-2012 famine that killed more than 260,000 people.
An urgent humanitarian situation
Time is short, and there's a strong possibility that without direct intervention, the Somalian famine of 2011 could be repeated. This crisis took hundreds of thousands of lives because the response from donors and aid agencies did not keep pace with the unfolding situation.   
In 2017, humanitarian agencies must adapt in order to respond to global crises with appropriate speed and efficiency. In a fast-paced and ever-evolving world, NGOs and third sector bodies cannot afford to rely on stale processes that may have proved adequate in the past, but cannot meet the growing need globally.  
The looming spectre of famine hangs over Yemen, Somalia, South Sudan and Nigeria, and it's essential that we act now to prevent tens of millions of avoidable deaths. Conflict in these four countries has destroyed community infrastructure, disrupted harvests and prevented the import of basic necessities like food and medical supplies. The lives of millions of innocent civilians are hanging in the balance.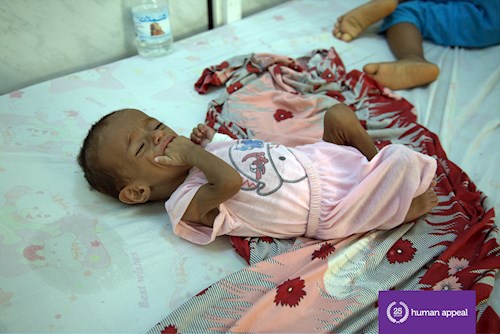 Human Appeal's work in Yemen
Human Appeal is already on the ground in Yemen, providing life-saving aid to people who have lost everything due to the continuing violence. Our emergency response includes distributing food packs, warm clothing, blankets, nylon sheets, and cooking fuel to families struggling to survive inside a war zone.
This work is only possible with your support. Please donate now to support the people of Yemen and before the predicted famine takes hold.
Donate Now