Human Appeal has embarked on a new partnership with Citizens UK, working with their Manchester chapter, known as Greater Manchester Citizens, to promote effective change and social action throughout the city. As a founding member, Human Appeal is helping make the voices of Stockport and Cheadle heard, through the first 'listening campaign'. This event is designed to provide a forum to discuss issues and insights from a diverse group of people working and living in the local area.
Our first meeting was a success, with more than 15 enthusiastic residents taking time out of their day to attend and engage in a lively discussion. Conversations were held on a variety of issues, ranging from drug crime to transport integration. The discussions that took place were invaluable, and demonstrated the citizens of Greater Manchester's commitment to social action within their local community. 
The key issues that were established within the discussion were found to be:
Safety (including antisocial behaviour, burglary and drug crime)
Sexual violence
Transport
Cuts to the NHS in Manchester
Lack of affordable, easily accessible childcare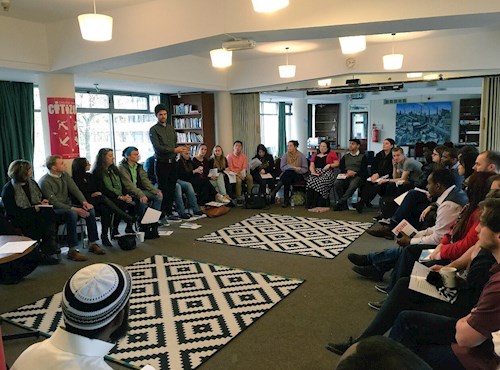 Despite being heralded as a diverse, safe and welcoming city, recent data shows that 7 out of 100 people living in Greater Manchester have experienced a 'victim-based crime' – including theft, sexual violence, battery and more. It is therefore hardly surprising that most of the event's attendees suggested that a focus on safety and crime needs to be a top priority issue for communities, with many members of the group personally sharing testimony of their own interactions and experiences of burglary and anti-social behaviour.
The second key issue raised concerned the ongoing problems with public transport within the borough and beyond, into all areas of Greater Manchester. The rising prices, lack of continuity with timetables and flexi-tickets, continuous roadworks with little public consultation and lack of accessibility were comments brought forwards, with suggestion that the current system has left people out-of-pocket, late or worse – simply unable to attend vital functions, events or work.
All of the key issues were identified from heartfelt testimonials and productive group discussions. Human Appeal and Citizens UK are excited for a second event in the coming weeks, hopefully with even more engagement from attendees. Future steps are already being taken to engage with the issues brought out of this first campaign. All findings will be brought before the candidates of the Greater Manchester Mayoral Election at the Greater Manchester Citizen's Mayoral Assembly on 1st May 2017.
This event marked an important step towards enhancing the power of the people of Stockport and the Greater Manchester area, and Human Appeal plans to work diligently with Greater Manchester Citizens to formulate a coherent action plan to ensure that the issues you face are held to account on the Citizens Assembly on May 1st  and beyond.