Since the invasion of Iraq in 2003, fighting between armed groups and government forces has plunged the country into chaos. More than 3 million people have been displaced from their homes, and the UN's Office for the Coordination of Humanitarian Affairs estimates that around 10 million people are in need of emergency assistance.
The crisis in Iraq is ongoing, and the latest conflict involves the besieged city of Mosul. Mosul is home to hundreds of thousands of people, who are at risk of being caught in the deadly crossfire or trapped in damaged buildings. Those trying to escape the city must brave lethal landmines.
The humanitarian impact has been significant. Since the new offensive began, 21,800 people have been displaced from western Mosul, including 12,000 children, according to IOM. Since 25 February, approximately 4,000 people per day have been displaced, the highest sustained daily average since the start of the conflict.
As of 28 February 2017, 176,566 people are currently displaced as a result of military operations in Mosul as a whole, signalling a new peak since hostilities began. 
Fleeing Mosul
Initial predictions estimate that anywhere between 500,000 and 1 million people may attempt to leave Mosul due to the most recent conflict. On the outskirts of Mosul, there are three main camps, reportedly receiving 500 people every day. As the army moves further into the city of Mosul, the number of Internally Displaced Persons is set to dramatically increase.
All these people will need emergency aid in camps and host communities over the coming months, including food, shelter, warm clothing, and WASH facilities. The temperature in Erbil is extremely cold during the night hours, and winterisation kits are going to become more and more essential over the coming months. There's also a direct need for cooking facilities as well as standard food parcels.
Many children in the camps outside Mosul have not received schooling for years, due to the destruction of school buildings and the disruptive effects of conflict. UNOCHA estimates that half of all the displaced persons within Iraq are children.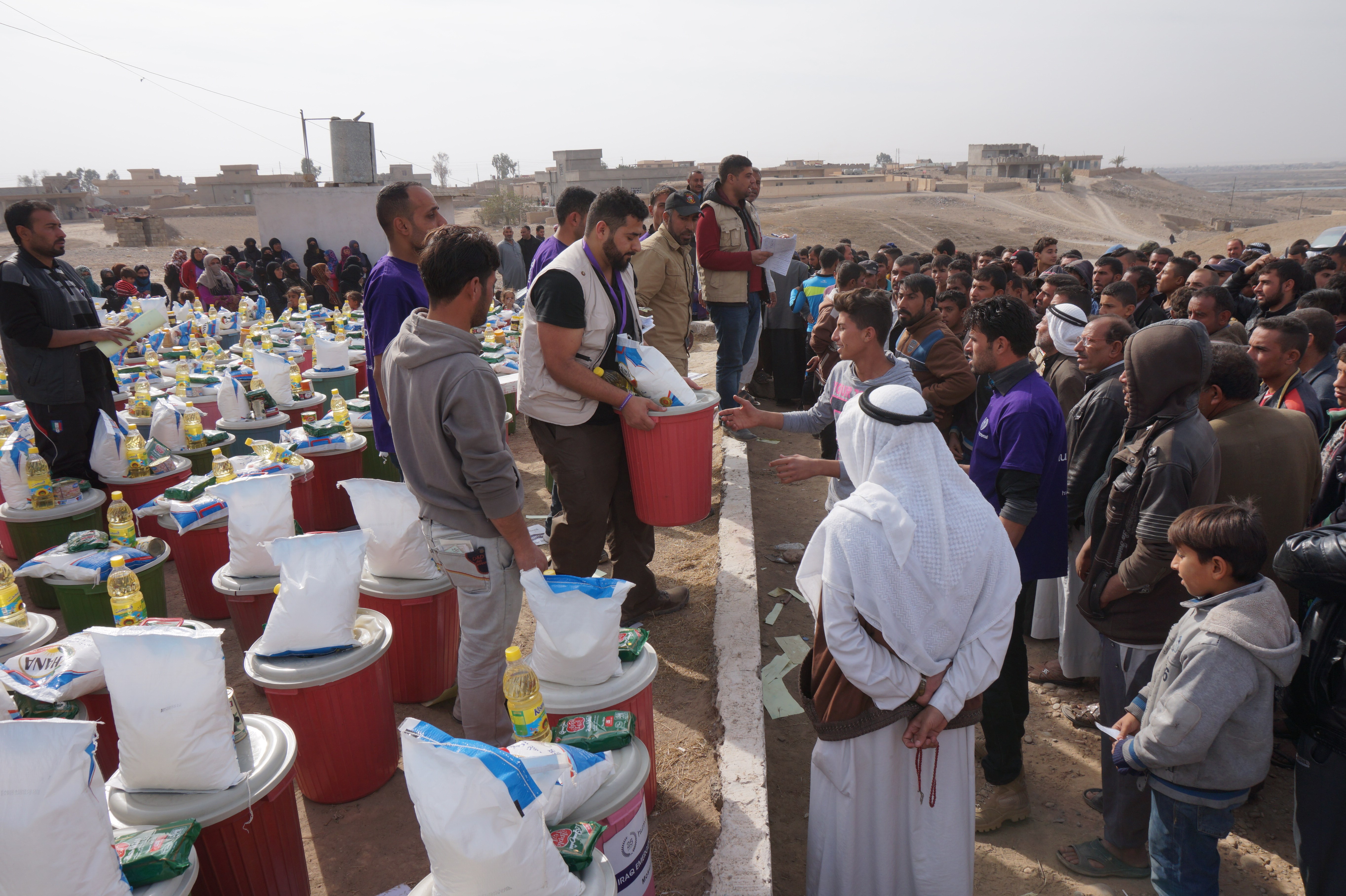 Our response
Human Appeal is on the ground in Iraq, carrying out a needs assessment and delivering Quick Impact Projects
On Saturday 12th November, we delivered 1,500 food parcels to people in the Khazer camp, on the outskirts of Mosul. We also purchased and distributed 500 high quality blankets to local families, and our team went from shelter to shelter to identify the neediest families (particularly those with young children) and hand out vouchers. In the coming days, we will be arranging to provide food parcels to 1,000 families in a similar camp.
In February 2017 Human Appeal carried out a needs assessment among IDPs fleeing the frontline from western Mosul and is planning emergency relief programmes including food parcels, hygiene kits distribution and safe water distribution.
Iraq's internally displaced people are in desperate need of support. Families are without food to live, heating to keep them warm or adequate shelter to protect them from even more suffering.
With your help, we can provide lifesaving aid this winter.
Donate now