Former Cabinet Ministers visit Human Appeal Projects in Turkey
Human Appeal (in a visit organised by MCF) took Clare Short and Andrew Mitchell, Former British Labour and Conservative International Development Cabinet Ministers to see their work on the Syria - Turkey border last week. The ministers returned demanding protection for refugees, an end to grotesque abuses of human rights and international law, sanctuary in safe havens, and end to the bombing of civilians and unfettered access for humanitarian relief.
The two former Cabinet Ministers witnessed an entirely British funded convoy of 90 trucks organised by the Human Appeal moving across the border into Syria with flour for 200 bakeries throughout Idlib Province. Human Appeal has to date distributed 21,746 tonnes of flour in Syria helping to reach more than 4.4 million Syrians. The people of that region literally rely on Human Appeal for their daily bread.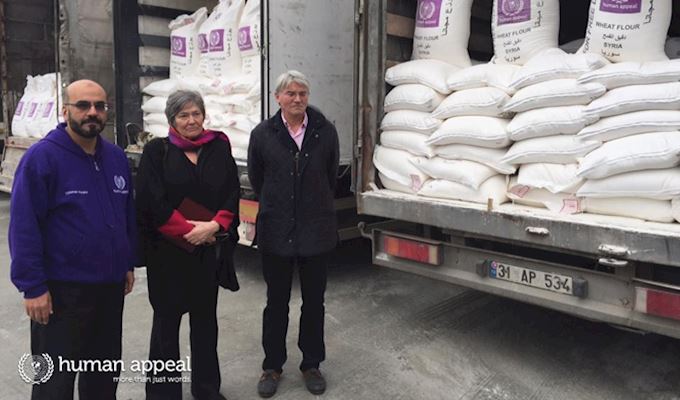 The Ministers' visit came ahead of the London pledging conference, which takes place this week under British, Kuwaiti and Norwegian Leadership. The Ministers called on the international community to ensure that the refugee camps in Lebanon and Jordan are fully funded and Turkey urgently receives promised EU financial support. They also state that the World Food Programme whose funding reductions mean rations in some locations run at 50 per cent of need must receive a full replenishment for the duration of this crisis.
Also part of the delegation, Othman Moqbel, CEO of Human Appeal commented,
"Human Appeal have been working in Syria since the conflict there began. In that time we have seen the humanitarian situation get worse and worse. The UN estimates that there are now over 10 million people displaced by this conflict - which is almost half of the Syrian population. It is essential that governments act to bring about a solution to this desperate situation."